LOCATION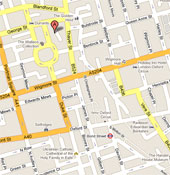 We are located in the heart of the West End of London close to Bond St station.
Early morning, daytime and evening sessions can be arranged at short notice.
Office hours: Monday - Friday 9:00a.m. to 5:30p.m. 24 hour answer-service.
Consultants at the Practice:
Dr William S Mitchell Clinical Psychologist
Dr Shamil Wanigaratne Clinical Psychologist
Austin Caffrey, MSc (OPP), MA (Phil), BSc (Hons), ACIB.
Karen Roberts MSc
For company training and workshops, please contact Karen Roberts.
For consultations please contact Jaime Haight